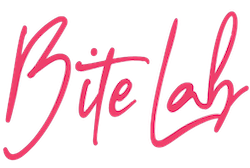 Part of our commitment to giving you a unique smile you can be proud of involves utilising the most advanced tools and technology to achieve your goals. This is why Dr Clarence Tam developed and pioneered the state-of-the-art Bite Lab® Mixing Deck — a one-of-a-kind mixing tray designed to optimise the creation of porcelain veneers, dental crowns, bridges, and other esthetic restorations. With Bite Lab®, your dental ceramist can now manufacture custom-crafted restorations with more accuracy, artistic precision, and natural-looking results than ever before.
What is the Bite Lab® Dental Mixing Deck?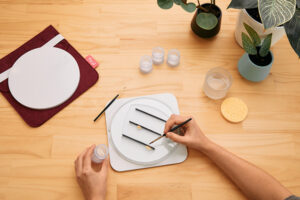 Bite Lab® is a dental mixing tray invented by our Auckland cosmetic dentist, Dr Clarence Tam. This specially designed sculpting deck allows our talented ceramists to mix materials commonly used in dental procedures — such as composite resin, porcelain, and other ingredients — directly on its flat, rotational surface. It enables a ceramist to mix powders right on a patient's tooth profile, allowing the results to be incredibly artistic and lifelike.
How is the Bite Lab® Dental Mixing Deck Designed?
The Bite Lab® Mixing Deck is considered the next evolution of a ceramist's sculpting tray. The careful design was refined by some of New Zealand's top dental ceramists and opinion leaders. Portable and equipped with a rotatable surface, Bite Lab® features an ergonomic design that makes it easier for us to deliver the highest quality of results during your restorative treatment.
What Is the Bite Lab® Dental Mixing Deck Used For?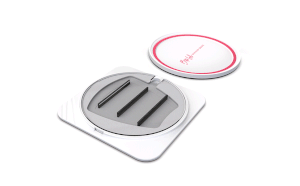 If you're in need of restorations to replace missing teeth or help support a weak tooth, the Bite Lab® Mixing Deck can help streamline the process. A ceramist's tray is utilised in dentistry to measure and mix ingredients. The product is then artistically layered onto the creation before being placed incrementally in the oven to create the ultimate esthetic beauty in natural-looking porcelain dental restorations. With Bite Lab®, dental ceramists can ensure that your implant, crown, bridge, or veneer is as durable, functional, and aesthetically pleasing as possible.
What Makes the Bite Lab® Dental Mixing Deck Stand Out?
The design of the Bite Lab® Mixing Deck can help esthetic restorations — such as inlays, onlays, and dental crowns — blend in perfectly with your smile, creating more harmony in your dentition. Unlike other trays, Bite Lab® allows ceramic powders to be mixed directly on a tooth profile for enhanced artistic precision. Thanks to its ergonomic and rotational design, this innovative mixing deck gives our dental team the opportunity to achieve superior results for Auckland patients.
Dr Clarence Tam and our skilled dental team always strive to use the most innovative, cutting-edge dental technology to make your experience as comfortable and efficient as possible. Talk to our dentists at Tam Dental Group to schedule an appointment and let us know how we can help you attain your dream smile!