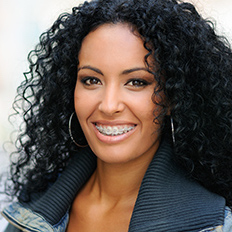 Straight teeth offer more than just a beautiful smile; they also offer a host of benefits, from improved speaking and chewing to reduced discomfort associated with malocclusion (literally "bad bite"). Fortunately, enhancing your smile is easier than ever. Our orthodontic options give you modern solutions to correct dental misalignment for teens and adults that don't require metal parts. Less irritation and improved aesthetics during treatment? It is possible! Tam Dental Group can determine if orthodontic treatment can help you achieve your goals at your initial appointment.
Get more in-depth information about our orthodontic options before calling in. Follow the links below or, if you prefer to chat on the phone, contact our team for details.
Invisalign®

Using a series of clear, removable aligners, Invisalign offers adults a way to gradually reposition teeth for a straighter smile and better functioning oral structure. Invisalign's benefits have made it the most popular orthodontic treatment available. Full or partial treatment options are available, and the latter is used to move teeth into better positions for minimally invasive cosmetic dentistry, often with veneers, crowns, or bridges as part of our Digital Smile Design-guided process.
Invisalign® Teen
Invisalign Teen is designed just for adolescents. This innovative teeth-straightening method works just like original Invisalign, using clear aligners to modify the position of teeth more comfortably and discreetly than ever before. We can even attach a "compliance indicator", so you know whether or not to ground your teen for not wearing their Invisalign.
Retainers

Maintain that beautiful smile with a retainer. We offer a range of customised options that can help keep your teeth in line and looking (and functioning) their best. Some patients benefit from short-term use of retainers while others may need to wear a fixed permanent retainer. Either way, we can design an effective solution that optimises your results.