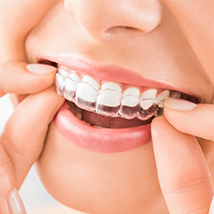 Teens and adolescents know a good thing when they see it, which is why so many of them clamour for straighter, healthier teeth. That said, most teenagers care less for traditional metal braces and their associated discomfort. Fortunately, they have another option. Tam Dental Group offers Invisalign Teen to help you achieve the smile you've always dreamed of grinning.
What Is Invisalign® Teen?

Invisalign Teen is just like traditional Invisalign, except it's made for the unique needs and goals of adolescents. Invisalign Teen uses a series of clear aligner trays (created using digital CAD/CAM technology) to gently yet swiftly reposition teeth to optimize alignment. No metal, no brackets, no wires, just a virtually invisible treatment that is removable and custom-made just for you. It also features a visual compliance indicator to ensure that your teen is wearing the appliance long enough for it to be effective.
Who Is a Good Candidate for Invisalign® Teen?
A full evaluation is the best way to determine if Invisalign Teen can help your smile, and this technique works well for many of the same issues that traditional metal braces correct. Common concerns like overbites, underbites, crossbites, gaps, crowding, and other forms of malalignment can often be addressed. Severe problems may require orthodontic extractions depending on arch space analysis or another interdisciplinary approach, and if that's the case for you, we will let you know how to best proceed and manage the case throughout. Your health and safety are our highest priorities, and we will provide all the support (and helpful advice) you need to move toward that dream smile.
How Does Invisalign® Teen Work?
It's very simple. We start with a consultation in which your cosmetic dentist develops a teeth-straightening program, and then we'll use state-of-the-art digital imaging software to separate your total treatment plan into a series of two-week treatments. Every two weeks you will wear a custom-made clear aligner tray designed to move your misaligned teeth just a smidge toward the end goal, which provides greater comfort than traditional braces. After two weeks, you will then follow with the next tray in the series. It's super important to wear your aligners as much as possible, only removing them to brush, floss, drink, and eat. If you go too long without wearing the trays, your treatment could take longer.
What Results Can I Expect from Invisalign® Teen?
Most people find that Invisalign Teen works even faster than metal braces, and we will let you know approximately how long we expect your process to take. In many cases, patients achieve a straighter smile in as little as 9-15 months. Want the best results as quickly as possible? Make sure you wear your aligner for at least 22-23 hours per day—essentially full time except for when you are drinking coloured fluids and eating food.
How Much Does Invisalign® Teen Cost?
The price of Invisalign Teen depends on your treatment plan; more complex programs that require more aligners will cost more than simple plans with fewer aligners. We have provided a general overview of typical options below:
Comprehensive treatment (for both arches): $9,500
Moderate: $6,400 covers unlimited aligners for up to two years for one arch
Moderate: $8,500 covers unlimited aligners for up to two years for both arches
Light: $4,200 covers two sets of additional aligners for two years for one arch
Light: $5,800 covers two sets of additional aligners for two years for both arches
Ready to love your smile? Adolescents love Invisalign Teen, and we think even parents can appreciate the ease of use and often lower cost. Come talk to our team to find out if Invisalign Teen is right for you.