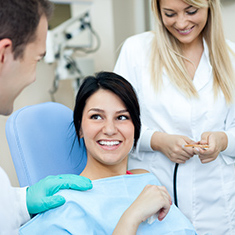 In addition to our cosmetic, general, and restorative treatments, we also offer a range of advanced dental services to assist patients with special concerns. One of the most common problems patients have when visiting the dentist is fear and anxiety. Although we primarily aim to reduce your stress with our kind, attentive, and compassionate care, we know that is not always enough. We can also aid you in feeling more relaxed with our selection of soothing options, including sedation dentistry.
Follow the links below to find out about some of our advanced services. Of course, a website can only tell you so much, so our team is always happy to answer any additional questions you might have. Talk to us today to learn more and to schedule a consultation.
Sedation Dentistry

As far as sedation dentistry goes, we offer everything from noise-cancelling headphones and Netflix® to oral conscious and IV sedation, the latter with a registered medical anaesthetist. Whatever your level of anxiety, we can help find a solution that puts you at ease enough to enjoy the best oral health and most beautiful smile of your life.
Sleep Apnoea
Concerned you may have sleep apnoea? If your partner or family members have mentioned your snoring, it may be time to consider a snore guard and sleep apnoea evaluation. This serious condition can cause a multitude of problems, including grinding, increased irritability, decreased concentration, and greater susceptibility to heart problems. But don't fret, we can help you correct this problem and work in conjunction with sleep centres to gain an accurate diagnosis.
Tooth Extractions

In some cases, a tooth extraction may be necessary. If the tooth is damaged beyond repair, there's limited space in the mouth for tooth movement, or you're having a dental implant or implant denture placed, we may need to remove a tooth. We extract using the latest techniques for the greatest comfort and quickest recovery possible. We never pull a tooth unless absolutely necessary, and we will review your options fully before beginning any procedure. Our extractions actually involve very little "pulling", more like gentle "pushing".
Cosmetic Injectables and Dermal Fillers
All-encompassing care means taking measures to avoid treating your smile in isolation. Your dentist may not be the first provider you think of when considering cosmetic injectables, but the extensive aesthetic and maxillofacial training completed by cosmetic dental professionals often make them the perfect practitioners to perform your anti-aging and wrinkle reducing treatment. Discover how volume enhancing dermal fillers and neuromodulators like BOTOX® Cosmetic and Dysport® can highlight your smile with gentle, yet effective, facial rejuvenation.
Laser Dentistry
A dominating gumline can prevent patients from fully embracing their smile, often cultivating self-consciousness rather than confidence. Virtually painless and no-contact laser dentistry techniques can restore balance to your teeth and gums by trimming excess gum tissue and making your teeth appear longer. The effect of this laser gum recontouring treatment can be increased tooth-show and a beautiful, proportional smile. Some of the other applications of laser dentistry include crown lengthening and the ability to heal herpetic lesions (cold sores) faster than topical medications.