A stunning smile comprises beautiful gums just as much as healthy teeth—unfortunately, concerns with one can adversely affect the other. Excess gum tissue that appears thick or overabundant can obscure the body of a tooth, making it look short and causing disproportion in your smile. Dr Clarence Tam and our dental team understands that beautiful teeth can sometimes be overshadowed by a dominating gumline. Our cosmetic dentists can use innovative laser dentistry techniques to improve your gum-to-teeth ratio and breathe new life into your smile.
What is Laser Gum Recontouring?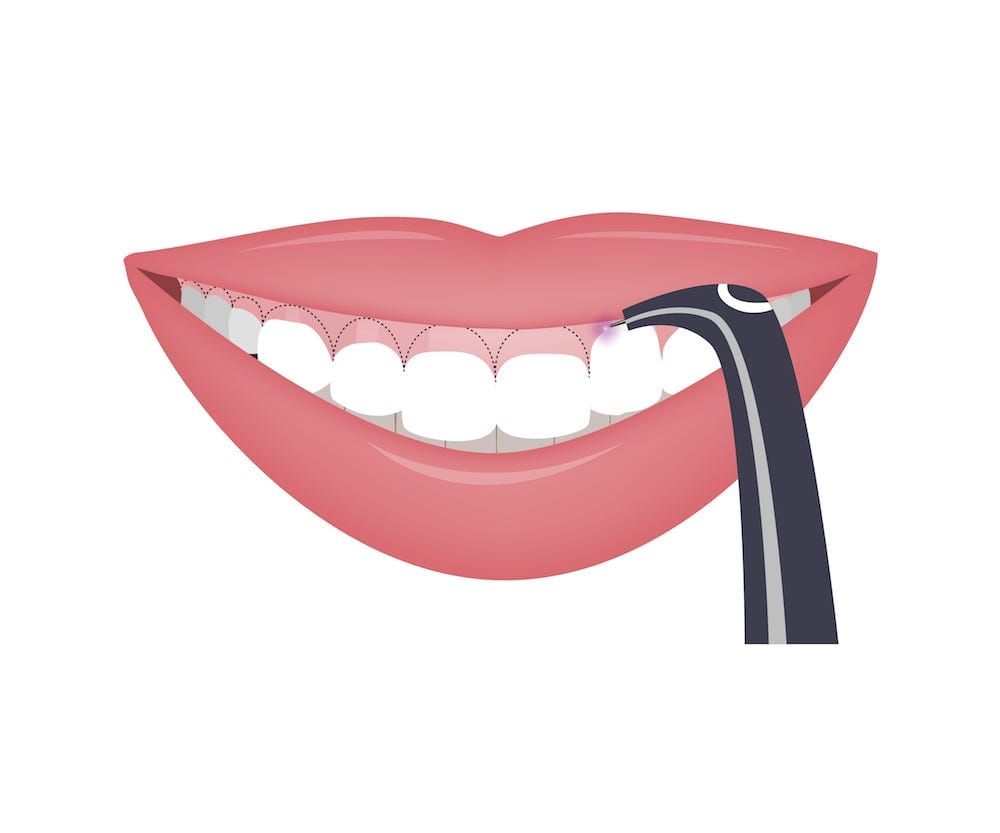 Laser gum reshaping is designed to create more proportion between your gums and teeth, enhancing symmetry in your smile. During treatment, your cosmetic dentist uses a special laser to gently trim away excess tissue and reshape the gumline. This can make your teeth appear longer and create a precise, even contour. Laser gum resculpting improves upon traditional methods of gum reshaping, which required manual excision of the gum tissue. Often, laser gum/gingival recontouring is a key part of comprehensive smile design, where the proportions of the anterior (front) teeth are made to look more balanced and in harmony with your smile.
Laser gum recontouring can also be helpful in cases where a tooth is too broken or decayed to support a dental crown. Commonly referred to as crown lengthening, this technique can reduce the bone and gum tissue where necessary to reveal more of the tooth structure and create a better fit for a dental crown. If you require crown lengthening to restore a damaged tooth, Dr Tam will explain how laser gum recontouring can complement your dental crown treatment in person.
How Can Laser Gum Recontouring Improve My Smile?
A disproportionate gumline can cause an imbalance in your dentition, often making the teeth seem shorter than they actually are. Laser gum recontouring can rejuvenate your smile by:
Increasing tooth-show
Achieving a more proportionate smile
Creating an even, symmetrical gumline
Improving contours around implant crowns
Decreasing a gummy smile based on proportion analysis via Digital Smile Design
Simply put, laser gum recontouring is a knife-free and virtually painless approach to gum reshaping. If prominent gums are distracting from your teeth, speak to our dental team about how this innovative cosmetic dentistry procedure can be performed to enhance your smile and facial appearance.
How is Laser Gum Recontouring Performed?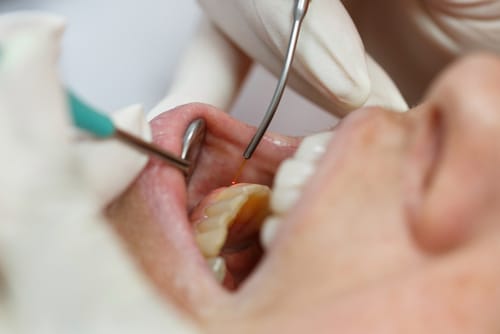 Reshaping the gums with laser dentistry can be a much more comfortable treatment experience than traditional cutting or excision techniques. A numbing agent is sometimes utilized upon patient preference, but general anesthesia isn't necessary. Using an advanced dental laser, your cosmetic dentist gently targets excess gum tissue. Without making any physical contact, the laser recontours the gumline to expose more of your natural tooth. This can refine the gums and create more proportion, effectively offsetting a gummy smile.
What is Recovery From Laser Gum Recontouring Like?
The gums may feel tender or sore after laser gum recontouring, but there is usually no recovery period necessary. Thanks to the minimally invasive nature of laser dentistry and the healing capabilities of the gum tissue, any discomfort should fade soon after treatment. Patients typically return to their normal routines immediately after laser gum reshaping.
Treating Herpetic Lesions with Laser Dentistry
If you have ever had a cold sore or fever blister, you may feel a sense of dread upon the familiar tingling feeling that signifies the onset of a breakout. Among the many applications of laser therapy is the ability to treat herpetic lesions faster and more effectively than ever! While these lesions typically take a couple of weeks to resolve naturally, the light-focused energy in our dental lasers can heal cold sores in as little as 48 hours. If you feel a lesion coming on, Dr Tam can use laser therapy to disinfect the sore and reduce swelling, bringing you virtually immediate relief from fever blisters faster than over-the-counter medications. Plus, lesions treated with laser dentistry are less likely to appear in the same spot in the event of future breakouts. Call our Auckland practice to learn more about how laser dentistry can treat herpetic sores and help restore your oral wellness.
Ready to renew your smile? Contact Tam Dental Group for more information about laser dentistry, or to schedule a consultation.