Dental phobia is one of the most common types of anxiety people experience, but we don't want that to stop you from receiving the treatment you need or want. At Tam Dental Group, we offer a range of advanced sedation dentistry options—after finding out what your triggers are—so you can feel more comfortable and at ease, whether receiving routine care or something more involved like a full mouth reconstruction. We're here to help, so tell us how to make your experience the best it can be. We strive to build your comfort and confidence at the same time, hopefully reducing your phobia over time.
What Is Sedation Dentistry?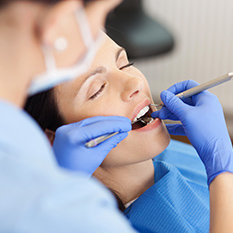 Sedation dentistry is a set of techniques used to aid in calming a patient before and during dental treatment. Sedation types can be simple and quick to fade, gently helping you feel a little calmer during your experience, or they can provide more pronounced effects, allowing a patient to completely relax, even fall asleep during treatment, leaving no memory of the procedure. Your level of discomfort and your treatment plan will determine the degree of sedation that is appropriate for you. For most patients, a little "laughing gas" will work wonders. And we use methoxyflurane (Penthrox) sedative inhaler as well as mild oral sedation in addition to auditory sedation (noise-cancelling headphones) for your comfort.
What Are the Advantages of Sedation Dentistry?
If you have ever hesitated to go to the dentist because you felt anxious, nervous, or fearful about the experience, sedation dentistry can help you overcome these common concerns. Although the primary benefit is reducing or eliminating fear of dental treatment, these techniques can also help you if you have a sensitive gag reflex, another common issue that makes visiting the dentist difficult for some patients. If seeing needles, smelling medical and dental scents, or hearing mechanical sounds induces discomfort, sedation can also start to undo the psychological reflex that causes these concerns. Talk to us about your issues, and we can help you find a solution that brings you in for the treatment you need for a healthy smile.
What Are the Different Types of Sedation?
The right sedation option for you will depend on several factors. For mild to moderate issues, methoxyflurane, also known as "laughing gas", is often sufficient to address your concerns. Oral conscious sedation is the next step up; it's an oral medication you take before the procedure (potentially before you arrive at the office) to create a feeling of calm. Finally, IV sedation, or twilight sedation, can be used for patients with severe anxiety. This type of sedation can be modified to allow you to remain conscious during treatment or to sleep peacefully, leaving no memory of the event. We have a registered medical anaesthetist that is on call for our patients should this option be necessary.
What Happens the Day of Treatment?
We ask that you discuss your fears and concerns with us prior to your appointment, so that we can have everything ready for you in advance. We don't employ nitrous oxide anymore, but instead prefer Penthrox (methoxyflurane). This sweet gas can be delivered through a mask that you wear during treatment to help you relax. For more significant issues, you will need someone to drive you to and from the office (particularly if you need to take oral sedatives prior to arriving), since you will still experience some of the sedative's effects after your procedure. Approximately 24 hours after your visit, you should be able to return to normal activities.
Are There Any Sedation Dentistry Side Effects?
Methoxyflurane can make you feel a bit giggly, thus its name, but the effects should pass quickly with a few deep breaths, leaving no long-term sensations. For oral conscious sedation, you may feel drowsy after taking the medication, and in some cases, patients may feel a bit dizzy, have dry mouth, experience mild nausea, or develop headaches, although these symptoms are unusual. With IV sedation, you will have some bruising, bleeding, and discomfort at the site where the intravenous line is inserted. Once you recover, you should have few if any side effects.
How Much Does Sedation Dentistry Cost?
The price of sedation dentistry will depend on which type of sedation you require and the complexity of its use. Your medical health will be thoroughly evaluated before using any form of sedation to ensure the best possible care. We will also discuss the cost with you before beginning. We have provided a general overview of standard pricing for each sedation technique to assist you:
Penthrox (methoxyflurane): $125 per appointment
Oral Conscious Sedation: $50 per appointment
IV Sedation: P.O.A. (usually ~$600 per hour by the medical anaesthetist)
Never let fear hold you back from the care you need or the cosmetic treatment you desire. Our sedation techniques and compassionate team can help put you at ease and erase the bad experiences you've known before. Talk to us today to learn more.