Missing teeth can make a mess of your self-esteem and leave you hesitant to smile. Fortunately, restorative dental techniques like All-on-4 can address the issue of a toothless smile with beautiful and lasting results. If you're bothered by uncomfortable or ill-fitting dentures, Tam Dental Group can help you find another option that better suits your lifestyle.
What Is All-on-4®?
All-on-4 is a type of implant denture that uses four dental implants to secure a denture appliance to the upper or lower arch. If six dental implants are used, as may sometimes be the case, the treatment is called All-on-6. The number of implants you will need will depend on the amount of jawbone structure you have and other anatomical considerations.
Is All-on-4® a Good Choice for Me?
All-on-4 may be a suitable option for patients who are not great candidates for a full set of dental implants due to insufficient bone density. This is because All-on-4 uses fewer implants. During your initial consultation, we will take a look at your oral structures and overall health to determine if this approach or another offers the best possible outcome. Your comfort, safety, and results are our highest priorities, and we will work with you from start to finish in restoring your smile.
What Are the Pros and Cons of All-on-4®?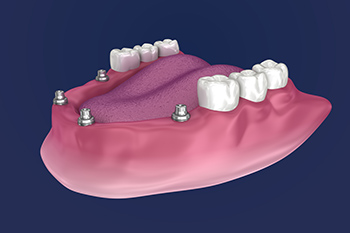 Many of the benefits of dental implants are shared with All-on-4 implant dentures, but each person will ultimately have to decide for themselves which technique is right for them. Some of the advantages and drawbacks of All-on-4 include:
Secure, non-slip fit
More maintenance than a full set of dental implants; less than traditional removable dentures
No messy adhesives needed
Natural-looking results
Some jawbone preservation (more than dentures; less than a full set of implants)
More affordable than a full set of implants; more expensive than dentures
How Does All-on-4® Work?
Implant dentures work a lot like dental implants. The implant posts are placed into the jawbone (don't worry, you shouldn't feel any discomfort during this process and will commonly be fully sedated) and topped by an abutment that sits above the gumline. The two techniques differ from there. In All-on-4, the abutments (four to six of them) snap onto a denture appliance that holds your full smile in place. The denture is designed to look as natural and organic as possible so that others will never realize you have anything other than an authentic smile. The other option involves a Prosthetic Implant Bridge, essentially a titanium or zirconia-framed full arch bridge that is then fixed or screwed to your implants. This option will only be able to be removed by your treating dentist.
What Is All-on-4® Recovery Like?
Since fewer dental implants are involved, you can go home with your permanent smile in place. You will still be healing for about six to nine months, as the titanium posts integrate with your jawbone for a secure and durable outcome, so you will have a few dietary restrictions during this short period. Once you are fully healed, you can enjoy virtually all the foods you love without concern for slippage or irritation.
How Much Does All-on-4® Cost?
All-on-4 typically costs less than a full set of dental implants, but your unique needs and goals influence the total price for your treatment plan. the price of All-on-4 at our practice ranges from $12,000 – $28,000 per arch (upper or lower arch), depending on material options. We will review the pros vs. cons and cost vs. benefit ratio as well as expenses associated with your program in detail at your first appointment. If you have any questions, we want the best for you, so please don't hesitate to voice them. We're here to help you smile confidently again.
Would you like to hear more? Talk to our dental team and schedule a consultation to learn about how All-on-4 works and whether it can work for you.