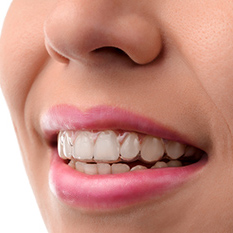 The most beautiful smiles are the ones that not only look lovely but are healthy and well-functioning, too. Traditional metal braces were the only option to straighten teeth for many years, but now patients have another choice. Our skilled cosmetic dentists offer Invisalign clear aligners to reposition the teeth and improve the bite without the metal parts associated with other techniques. Curious to learn if this discrete approach can help your smile be its very best? Talk to us today to determine if Invisalign is right for you.
WHAT IS INVISALIGN®?

Invisalign is a teeth-straightening system that uses digitally-guided and computer-assisted design and manufacturing (CAD/CAM) to generate a series of clear aligner trays to gradually shift the teeth into proper alignment. Rather than use metal wires and brackets, as traditional braces do, Invisalign offers a virtually invisible orthodontic treatment that is more comfortable than the alternative, as well as removable.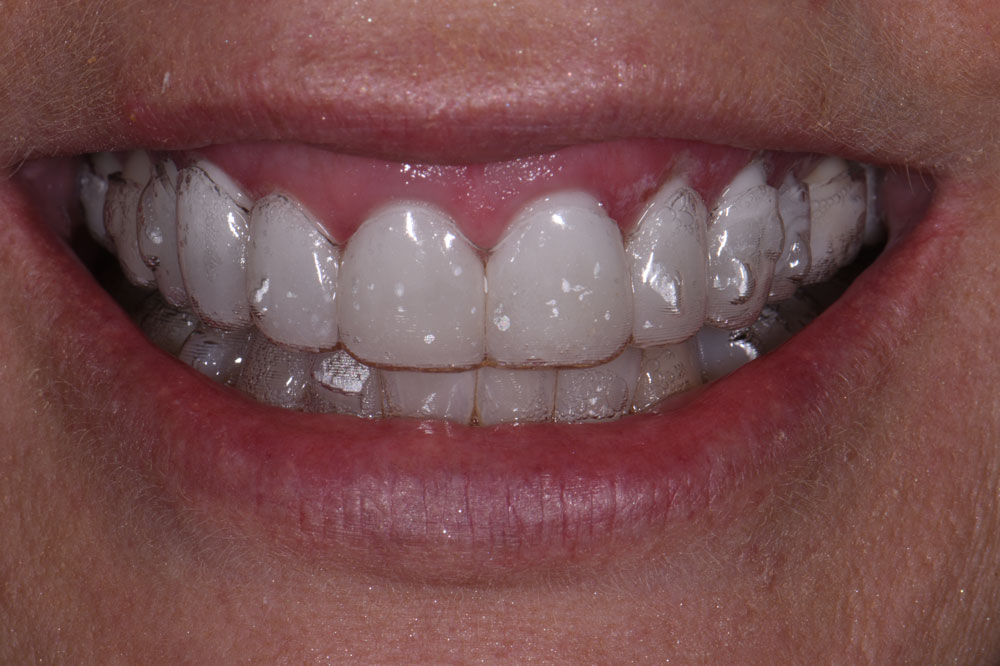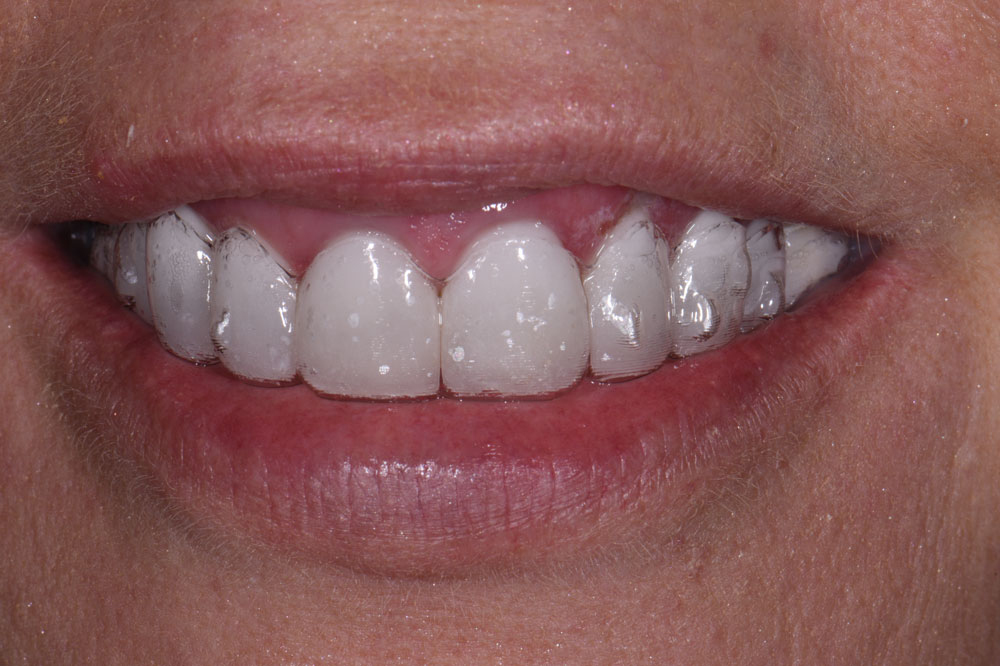 WHO IS A GOOD CANDIDATE FOR INVISALIGN®?
One of the many benefits of Invisalign is that this innovative technique can address most of the same orthodontic concerns as traditional metal braces. If you have an overbite, underbite, crossbite, gaps, crowding, or another misalignment issue, Invisalign may be a suitable alternative to braces. If you have very severe misalignment or malocclusion (bad bite), Invisalign may not be for you—but it never hurts to find out for sure. Invisalign is primarily designed for adults. Adolescents interested in using clear aligners to straighten their teeth have a product made just for them: Invisalign Teen.
INVISALIGN® VS. TRADITIONAL METAL BRACES
Both orthodontic techniques are designed to move the teeth into better alignment. When your teeth are misaligned, they can cause damage, decay, eating and speaking difficulties, and self-consciousness. Traditional metal braces place pressure on all of the teeth in an arch, which can cause more discomfort. The metal parts can also cause friction and pain where they rub. Traditional braces are also permanently attached to the teeth and cannot be removed without dentist or orthodontist assistance, unlike Invisalign, which uses clear, removable trays. Since they are removable, patients can now floss more easily between the teeth without metal wires in the way.
HOW DOES INVISALIGN® WORK?
Your treatment plan will be developed during your initial consultation. Digital imaging will be used to create a customised program that is broken up into a series of two-week treatments. For each of these treatments, you will wear an aligner that is designed to gently move your teeth closer to their final position. You should wear each aligner as much as possible—aim for at least 20 hours a day, though we recommend 22-23 for the best results—only removing them to eat, drink, brush, and floss. You can of course take them out for other reasons, just be mindful about how long you go without them.
WHEN CAN I EXPECT RESULTS FROM INVISALIGN®?
Invisalign can often provide results faster than traditional braces, but it's important to remember that everyone is different. Most patients arrive at their new, straighter smile in as little as 9-15 months. During your initial consultation, we can give you a better idea of how long your treatment will take.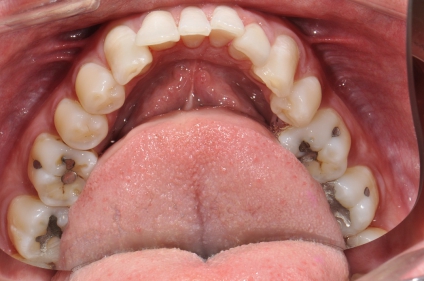 Before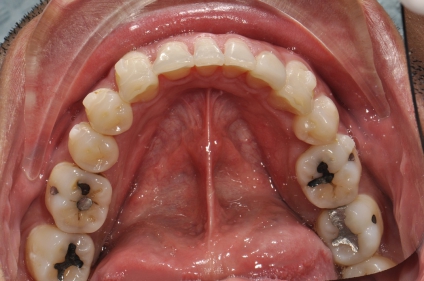 After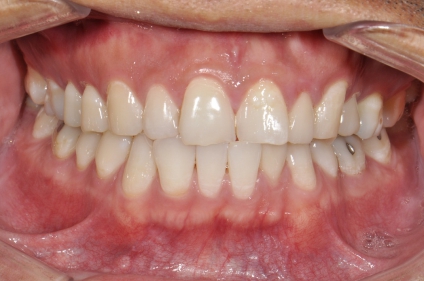 Before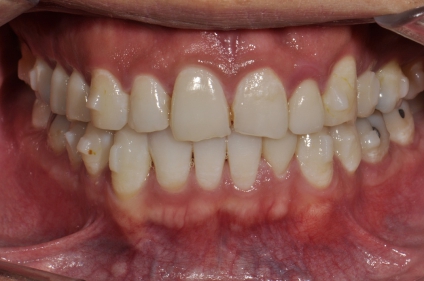 After
HOW LONG DOES INVISALIGN® LAST?
Invisalign can straighten your teeth and bite for the long-term future, provided that you are diligent about wearing your retainers after treatment. These retainers keep your teeth from shifting back to their original positions and help ensure your new smile lasts indefinitely. The majority of patients can even limit wearing their retainers to a nightly basis—as long as they are worn consistently, there should be no need for retreatment. 
WILL INVISALIGN® HURT?
Treatment typically doesn't cause any pain, but a gentle pressure as you are getting used to wearing your aligners is common. This is usually a sign that Invisalign is working by softly guiding your teeth into the proper positioning. In fact, one of the primary benefits of the Invisalign system is that patients often find it a much more comfortable alternative to the metal wires and brackets of traditional braces, which can poke and irritate the gums. 
HOW MUCH DOES INVISALIGN® COST?
The price of Invisalign will depend on how many aligners you need, how complex your treatment plan is, and whether your program needs any adjustments (in the case of not wearing the aligners long enough to achieve the ideal progression in the two-week period, for instance). Generally speaking, Invisalign costs between $4,200 and $9,500 depending on complexity, which is often similar to or potentially less expensive than the cost of metal braces. More specifically:
Comprehensive treatment (for both arches): $9,500
Moderate: $6,400 covers unlimited aligners for up to two years for one arch
Moderate: $8,500 covers unlimited aligners for up to two years for both arches
Light: $4,200 covers two sets of additional aligners for two years for one arch
Light: $5,800 covers two sets of additional aligners for two years for both arches
Additional Invisalign® FAQs
What is Invisalign® Teen?
Invisalign Teen works exactly the same as Invisalign for adult patients, only the special considerations of the developing adolescent jawbone are taken into account. In our experience, teens far prefer the conveniences of these clear, removable braces over metal braces. Not only can younger patients enjoy the freedom of an unrestricted diet, but they also spend less time cleaning their teeth since there are no metal wires or brackets to maneuver around when brushing and flossing. What's more, teens often find that wearing Invisalign aligners is less invasive and bothersome when playing sports and other recreational activities. 
Learn More About Invisalign Teen
How do I clean my Invisalign® aligners?
Cleaning your aligners is simple—just brush them with a soft-bristled toothbrush under lukewarm water. We suggest doing this at the same time as your daily and nightly teeth-cleaning regimen to ensure your aligners remain as pristine as possible. Just be careful to avoid exposing them to hot water! Extreme temperatures can warp the plastic and disrupt the timeline of your treatment. Lastly, we encourage you to brush your teeth after consuming blueberries, pasta sauce, coffee, wine, curry, and other staining agents. This will help your aligners remain clear and prevent accidental discoloration. 
Can Invisalign® straighten just my top or bottom teeth?
Yes, but the ability to straighten one dental arch alone varies from patient to patient depending on the extent of misalignment. Since repositioning one row of teeth often requires accommodations to be made to the opposite jaw, treating just the top or bottom teeth without addressing the adjacent row can lead to an unbalanced bite. Our team will recommend the best course of action for your needs once we've had a chance to assess your concerns in person.   
Will Invisalign® change my speech?
Speaking with your Invisalign aligners may take some getting used to. It's not uncommon to have a mild lisp when you first start treatment, but your speech should return to normal within a day or two as you become accustomed to the feeling of wearing your aligners. 
Does at-home teeth straightening work?
Although at-home teeth straightening treatments, such as mail-order braces, have gained some attention in the media, it's important to clarify that these DIY systems are not only often ineffective—they can also be unsafe. Orthodontic treatment should only take place under the care and supervision of a certified dentist, and at-home methods run the risk of lasting damage to your jawbone and oral health. This can lead to more costly and invasive treatment than you would have required if you had sought the care of an orthodontist in the first place. If cost is a concern, Dr Clarence Tam and our team of dentists believe necessary dental work should never be sacrificed due to financial burden. We offer flexible and affordable dental financing through reputable third-party lending companies. Please call our office to learn more about our various payment options. 
Does Invisalign sound like a good fit for you? Find out for sure by contacting our practice and scheduling a consultation. We can help you find the right treatment at the right price for your needs.