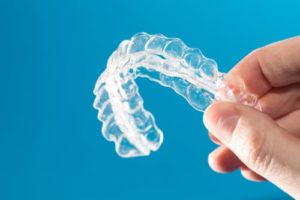 So you've made the decision to straighten your smile and improve your bite with a discreet and contemporary alternative to metal braces—congratulations! We know you're eager to start the process that will ultimately lead to your new smile and our skilled dental team will do everything we can to make your journey as smooth as possible. Before you start treatment, take a moment to review the following tips from our cosmetic dentist, Clarence Tam, HBSc, DDS, AAACD, FIADFE, so you know exactly how to prepare for Invisalign.
Invest in a travel-size toothbrush.
Part of Invisalign's goal is to straighten your teeth without any obvious indication that you're undergoing treatment. That said, keeping your aligners free of stains and/or discoloration is key to this mission. You can limit bacteria buildup that may potentially lead to dingy-looking aligners by brushing your teeth often—ideally after every meal. A travel-size toothbrush that you can take to work or school can help you keep on top of the daily oral hygiene required to keep Invisalign aligners clean, clear, and bacteria-free.
Don't use toothpaste to brush your aligners.
Surprisingly, toothpaste is not usually the best cleaning agent to keep your Invisalign trays pristine. Many toothpastes contain abrasive ingredients, which can unintentionally cause your aligners to take on a yellow sheen. Instead, use small amounts of a clear anti-bacterial soap and rinse your aligners thoroughly under lukewarm water.
Take your aligners out before drinking coffee, wine, and other dark beverages.
Again, don't let accidental staining compromise the transparency of your Invisalign trays! While it may be tempting to leave your aligners in for a few sips of coffee or that last glass of wine, try to limit their exposure to staining agents as much as possible.
Get into a routine.
You'll need to wear your aligners for at least 20 (ideally 22) hours every day to stay on track with your treatment timeline. Given that you need to take them out before eating, it is often helpful to get into the habit of brushing your teeth and aligners as soon as you're finished with your meal so you remember to put them back in.
Invisalign makes it possible to achieve your dream smile with conservative techniques and minimal interference to your daily life, which is exactly what we strive to achieve at Tam Dental Group. If you have any questions, reach out to our practice and a member of our team will be happy to speak to you about your concerns.