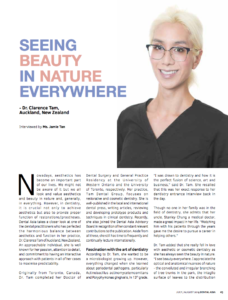 Tam Dental Group's lead clinician and cosmetic dentist Clarence Tam, HBSc, DDS, AAACD, FIADFE was recently interviewed in the July/August 2019 issue of Dental Asia! Appearing in the "Under the Spotlight" feature, Dr Tam is distinguished in the article for her unique ability to recreate the beauty and nature of life in her dentistry practice. In the article, Dr Tam speaks to her passion for art, science, and helping others while describing how these elements have interacted synergistically since her inception into aesthetic dentistry. According to Dr Tam, the important role that aesthetics play in life, as well as with our smile and overall confidence, leaves no room for superfluous details—the appearance of the teeth are influenced by the gingiva, which is also affected by the shape and size of the lips, which contribute to the overall balance of the face. The challenge lies in applying the principles of beauty while preserving as much natural tissue as possible, ultimately culminating in a highly rewarding "minimally invasive, maximally aesthetic" philosophy of care.
The article also delves into one of Dr Tam's most memorable patients—a healthy 10 year-old boy named Cohen who had suffered multiple dental injuries from a lifetime of skateboarding and sought Dr Tam's help to alleviate teasing at school. Dr Tam was able to achieve a successful outcome not only through her biomimetic philosophy, but also by incorporating digital technology as necessary for the best clinical results possible. Whether treating a patient like Cohen or utilizing techniques like composite veneers, Invisalign®, or teeth whitening, Dr Tam believes CDE (continuing dental education) for dentists in accordance with empowering patients through education and compassionate care are key to constant improvement in the field.
Check out Dr Tam's full "Under the Spotlight" profile in Dental Asia's summer issue here! Don't forget to talk to our talented team of dental professionals when you are ready to take your smile to new heights.